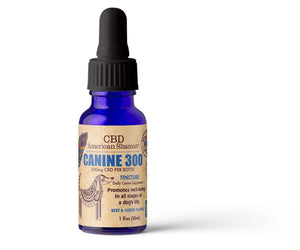 Animals have anxiety, joint discomfort, and many of the same disorders as humans. So, just as with our human line of products, we use the best of ingredients for our canine, feline or equine customers. After all, they're family, too!
Flavors: Beef & Cheese
Weight: 0.09
Size: 30mL
Strength: 300mg CBD per Bottle (10mg per 1mL)
Usage: As a Daily Dietary Supplement
Container: Blue color, glass bottle with dropper (mL measure is on the dropper)
UPC:
 0767550720252
Serving Size: (mL measure is on dropper)
1 to 24lb. Dog = .25mL
25 to 49lb. Dog = .5mL
50 to 99lb. Dog = .75mL
100 to 200lb. Dog = 1mL
2X Daily
Ingredients: CBD Terpene Rich Industrial Hemp Oil, Medium Chain Triglyceride Oil from Coconut Oil. Real Beef and Cheese Flavor. Successfully Tested on Humans.
*Daily Value: Not established. Cannabidiol is a natural constituent of Hemp Oil.